We are Specialize in Digital, Cloud and Security Managed Services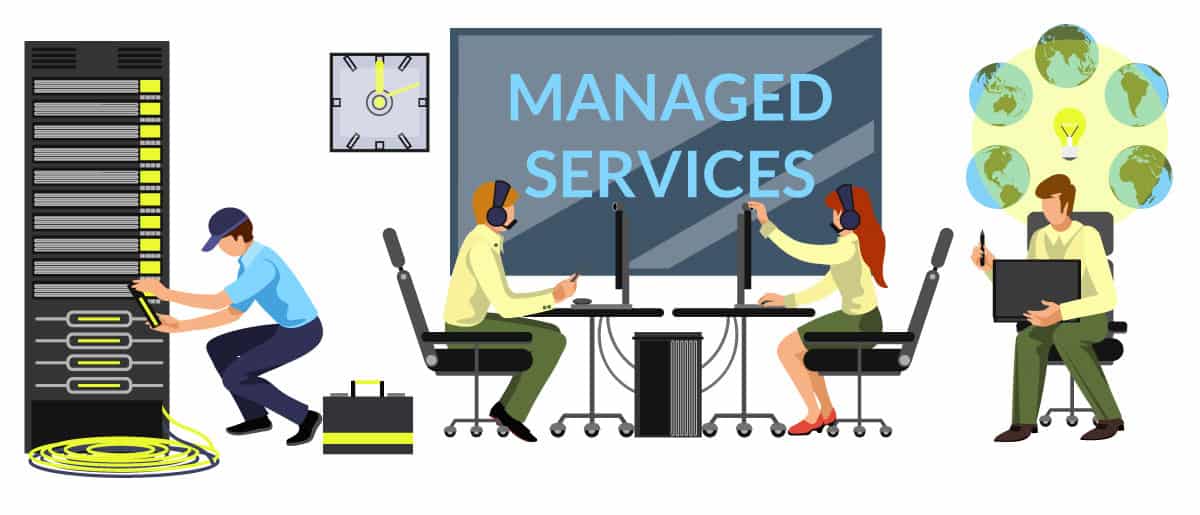 Welcome to the Future of IT: Introducing Managed Services by Zorins Technologies
Enhance Your Business Potential with Zorins Technologies' Specialized Digital, Cloud, and Security Managed Services! In today's dynamic business environment, technology plays a vital role in determining a company's success. That's where managed services come in.
In managed services, IT functions and responsibilities are outsourced to third parties. Services offer proactive management and support of IT infrastructure, systems, applications, and processes. With a focus on Digital, Cloud, and Security managed services, Zorins Technologies employs modern DevOps and Agile methodologies.
Even, With years of experience and a team of highly skilled professionals, we are committed to providing the highest level of service and support to our clients.
As part of our Managed Services, we provide:
In today's fast-paced and technology-driven world, businesses face increasing demands to stay agile, secure, and ahead of the competition. Managing complex IT infrastructures and keeping up with evolving technologies can be a daunting task, requiring specialized expertise and dedicated resources. That's where Zorins Technologies steps in.
Also, at Zorins Technologies, we help businesses focus on their core competencies and strategic objectives without getting bogged down by IT. Infact, with our managed services, we take care of the day-to-day management of your IT infrastructure and applications. Typically, they offer a range of services tailored to each business' requirements. Some common examples of managed services include:
Network Management:
Monitoring and managing an organization's network infrastructure, including routers, switches, firewalls, and wireless access points. This involves ensuring network availability, performance, security, and troubleshooting any issues that arise.
Server and Infrastructure Management:
Establishment, configuration, and ongoing management of physical and virtual servers and storage systems. This includes tasks such as patch management, performance monitoring, backups, and disaster recovery planning.
Cloud Services Management:
Providing support for public cloud services, including Infrastructure as a Service (IaaS), Platform as a Service (PaaS), and Software as a Service (SaaS). This involves ensuring cloud resources are properly provisioned, monitored, secured, and optimized.
Security Management:
Implementing and maintaining robust security measures to protect against cyber threats. A few examples are firewall management, intrusion detection and prevention, vulnerability assessments, and incident response.
Data Backup and Recovery:
Implementing regular data backup strategies to ensure critical data is protected and can be recovered in case of data loss. This may involve onsite and offsite backups, data replication, and testing data recovery procedures.
Help Desk and End-User Support:
Providing technical support to end users, addressing their IT-related issues and inquiries. This can range from password resets and software troubleshooting to assisting with hardware installations and configurations.
Application Management:
Supporting and maintaining business applications, such as customer relationship management (CRM), enterprise resource planning (ERP), and collaboration tools. This includes tasks like application monitoring, upgrades, performance tuning, and user support.
However, managed services providers bring specialized skills, industry knowledge, and advanced tools to ensure that IT systems are running smoothly, secure, and optimized for performance. This approach often leads to improved operational efficiency, cost savings, reduced downtime, enhanced security, and access to the latest technologies and best practices.
Why partnering with Zorins Technologies?
Here are some compelling reasons why your business should consider partnering with us for your IT needs:
Expertise and Accountability:
Our Managed Services Board comprises seasoned professionals who are responsible for adhering to service requirements and Key Performance Indicators (KPIs)/Service Level Agreements (SLAs). This ensures that your business receives top-notch service and measurable outcomes.
Delivery Excellence:
As your trusted IT partner, we act as a delivery lead to guarantee the quality of our services and adhere to milestones, planning, and finances. Our commitment to excellence ensures that your projects are delivered on time and within budget.
Unparalleled Quality Assurance:
We excel in maintaining expected quality levels and address any deviations promptly. Without compromising on quality, we ensure smooth business operations.
Transparent Communication:
We believe in fostering open communication with our clients. With detailed activity reports and service improvement plans, we keep you informed about IT infrastructure progress.
Continuous Improvement:
Your feedback is invaluable to us. In order to establish, improve, and refine our services, we actively assess customer feedback. We ensure your business benefits from the latest technological advances.
Optimal Resource Planning:
Our experts assist you in planning and scheduling activities, ensuring efficient resource allocation. This proactive approach minimizes downtime, streamlines operations, and optimizes resource utilization.
Crisis Management:
In the face of escalations and critical issues, you can rely on us to swiftly coordinate and resolve any challenges. Our goal is to minimize disruptions to your business and ensure swift resolutions.
Furthermore, we bring a wealth of additional capabilities to the table:
Implementing DevOps approaches and tools such as Continuous Integration/Continuous Deployment (CI/CD), test automation, and code quality analysis to enhance software development processes.

Assessing the Agile/Scrum maturity of scrum teams and providing coaching as needed. This empowers your teams to embrace Agile methodologies and achieve higher levels of productivity and efficiency.

Identifying and mitigating potential risks to safeguard your business operations. Our experts are well-versed in major incident management, ensuring that any disruptions are handled swiftly and effectively.

Developing comprehensive schedules, time estimations, budgets, and documentation.
Therefore, partnering with Zorins Technologies for your Digital, Cloud, and Security managed services needs means gaining a strategic advantage in today's competitive market. With our expertise, commitment to excellence, and ability to adapt to emerging technologies, we empower your business to thrive in the digital age.
So, Let us handle your IT complexities while you focus on innovation and driving your business forward. Let's unlock the full potential of your digital landscape and take your organization forward!